Quattro in all its forms
Using leading edge technology, Quattro is designed to give you superior driving performance, fuel efficiency and power in any weather or terrain.
Distributing power to the wheels, the Audi Quattro system ensures you not only stay safe and in control, but that you experience the best grip and traction when you need it the most.
What is Quattro?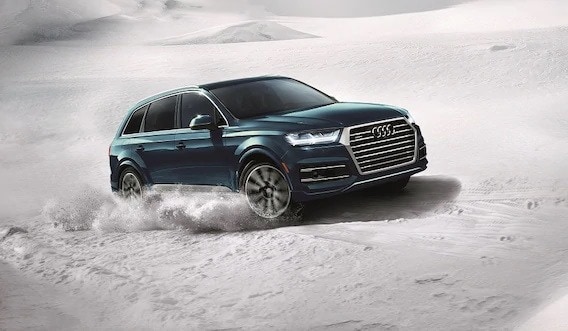 Quattro means four in Italian, and is a registered trademark of Audi. It is a legendary Four-Wheel drive technology or system used by Audi on some of its vehicles, where the optimal power is delivered to each wheel as needed to deliver superior handling and phenomenal grip. Quattro provides high levels of active safety and dependable traction on most roads.
Nearly 30 years ago, Audi introduced the concept of a car with permanent four-wheel drive and since then it has revolutionized the automobile industry especially the driving experience. The benefits of Quattro has set new benchmarks for engine performance, resulting in increased driver confidence.
The Audi vehicle comes with a horizontal engine configuration, and is equipped with Quattro . Featuring a 40:60 rear torque bias, Quattro offers sports car-like performance and handling with maximized traction.
How Does It Work?
Multi-plate clutch
Multi-plate clutch
Models equipped with this Quattro system include; A3, Q3 and TT, R8, RS3, TT RS.
Self-locking differential
Self-locking differential
Models available with this quattro system include; A4, A5, A8, Q7, Q8, RS5
Quattro with ultra technology
Quattro with ultra technology
Models available with this quattro system include; A6, A7, A8, Q5
E-Quattro
E-Quattro
Models available with this Quattro system include; e-tron 55 quattro
40 Years of Quattro